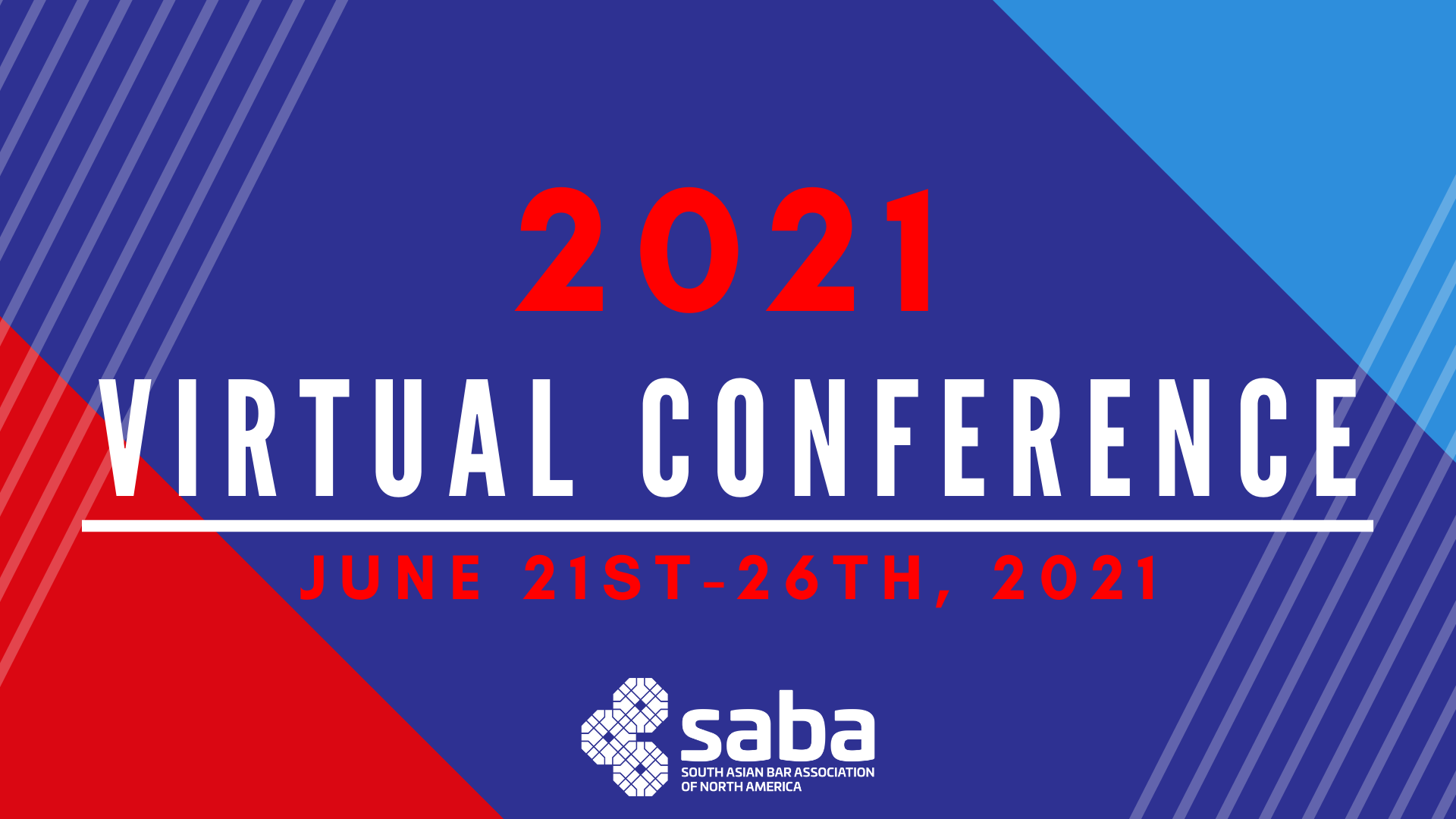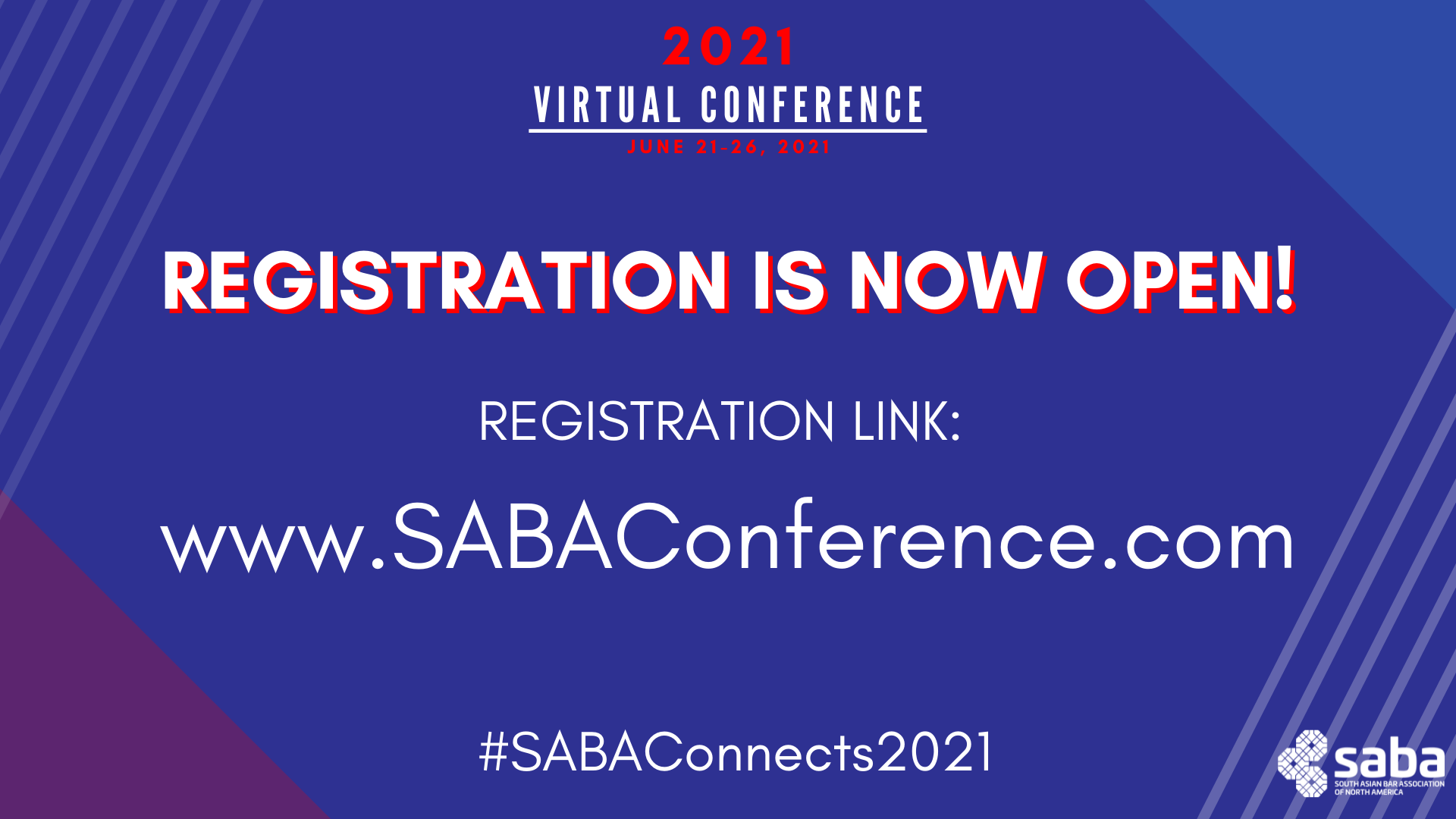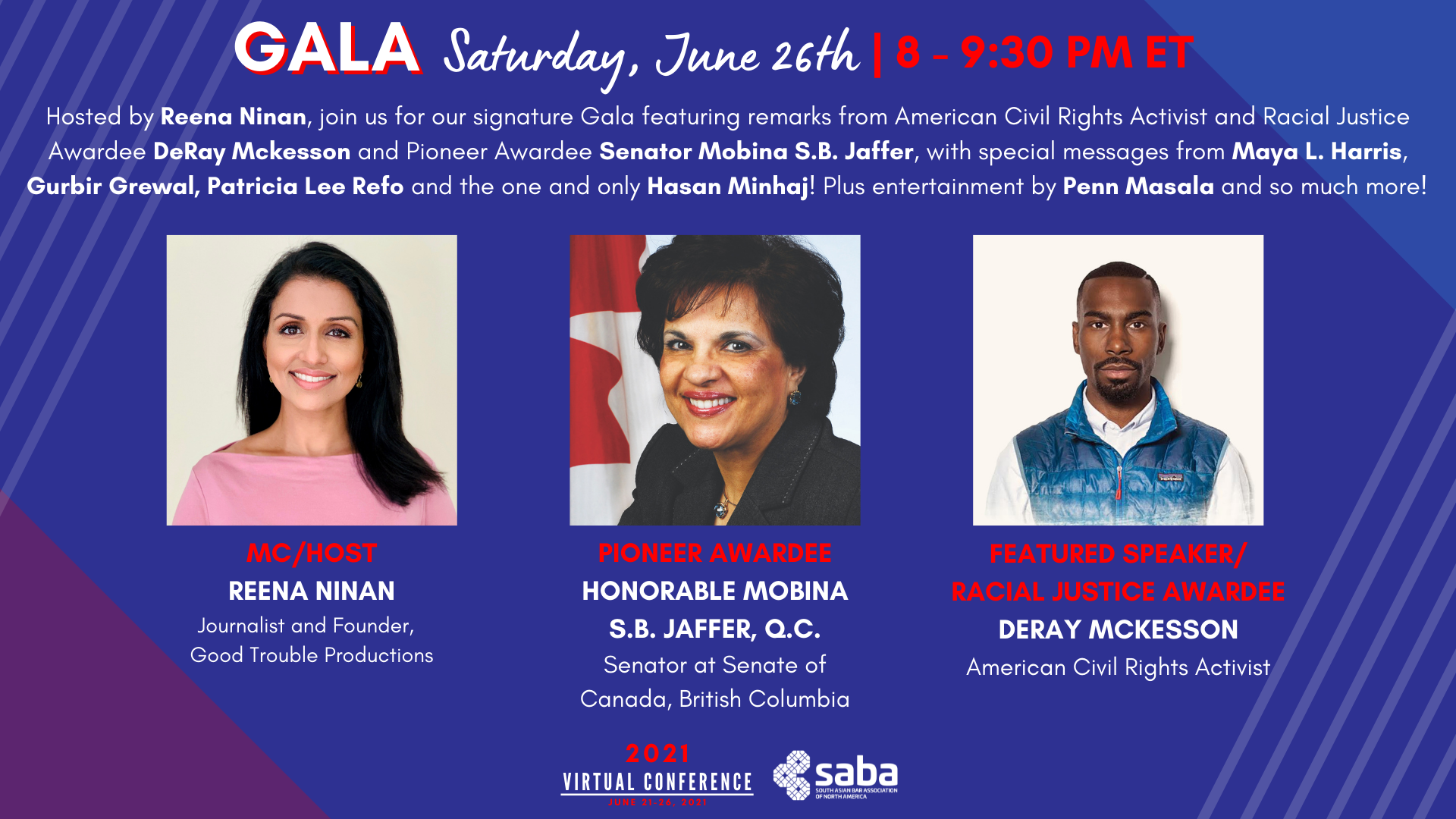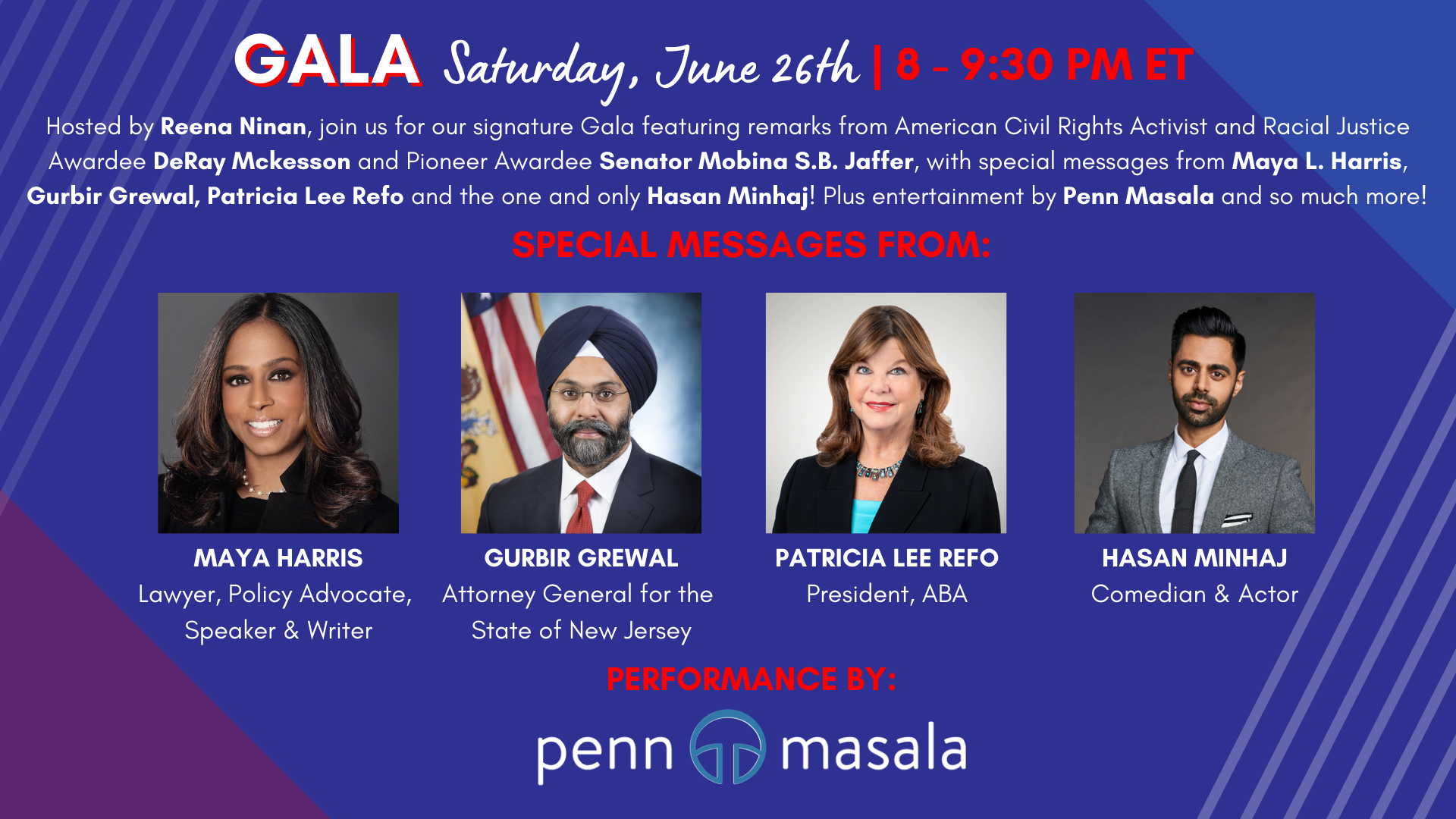 SABA North America's signature event, its long-running Annual Conference, is the one time of year to meet with hundreds of South Asian attorneys in a professional, yet casual atmosphere. You can strengthen your community ties or create new ones while advancing your career knowledge through CLEs and interacting with others in your field.  From the Welcome Reception to the Gala to the panels and networking events in between, the SABA North America Conference is the best place to mix and mingle, learn and share, with the best of the South Asian legal community.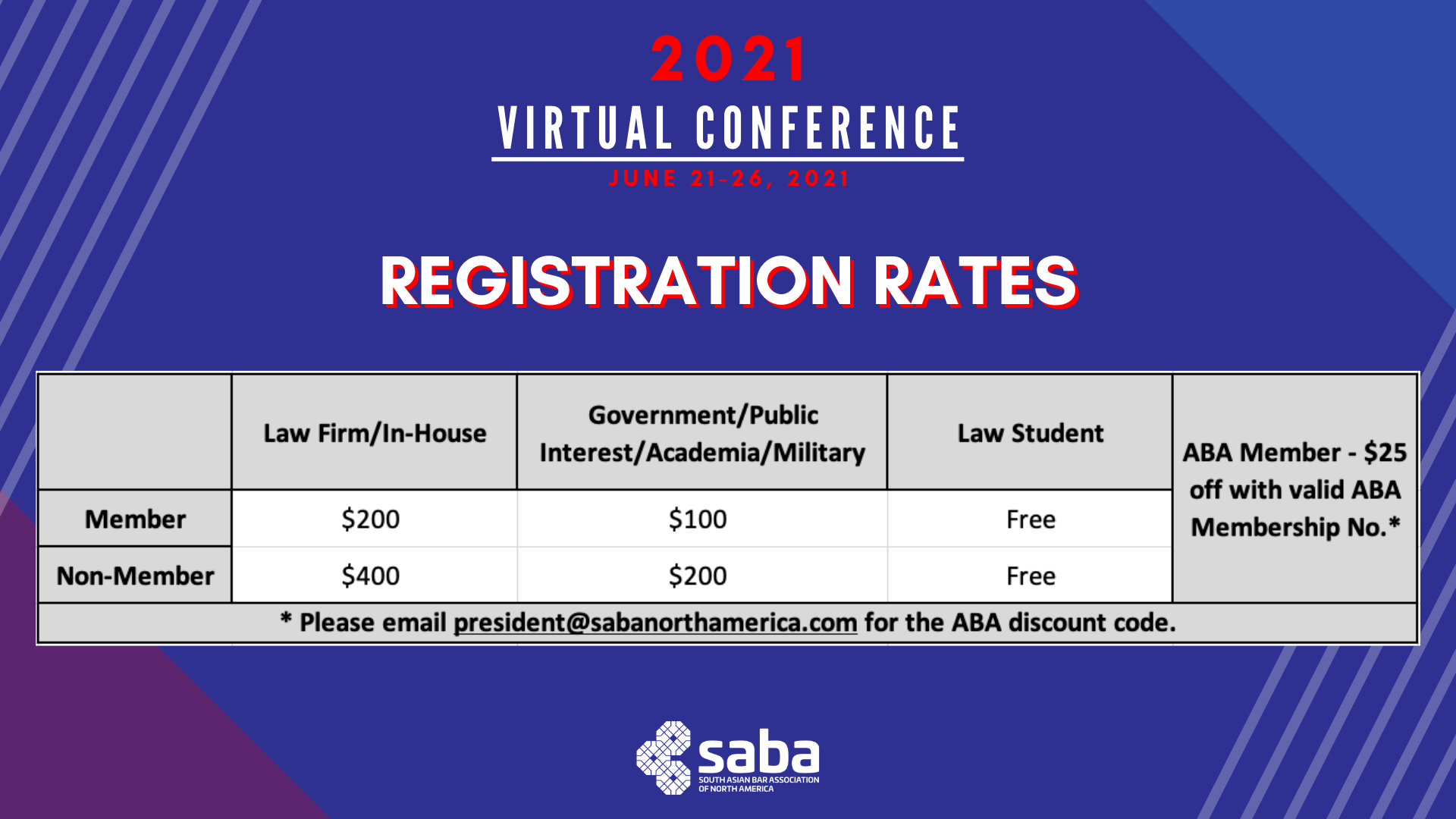 SCHEDULE OF PROGRAMMING AND EVENTS
More details to come!
Monday, June 21st

 
12:00pm - 2:00pm ET: SABA North America Board Meeting (BY INVITATION ONLY)
3:00pm - 4:30 pm ET: Immigration State of the Nation (CLE) 
This panel will provide an update on immigration trends, discuss family separation issues, and spotlight SABA North America and SABA Foundation's work at the Dilley Detention Center.

 

Panelists:

Madhurima Paturi, Immigration Attorney, Paturi Law
Khorzad A. Mehta, Supervising Immigration Attorney, Murthy Law Firm
Neena Dutta, Principal Attorney, Dutta Law Firm, P.C.
Sucharita Varanasi, Lead Counsel, Corporate Law & Pro Bono Chair, MassMutual

Moderator:

Hamel Vyas, Associate Dean, International Personnel, HR Regulatory & Compliance, Human Resources, Mount Sinai Health System
3:00pm - 4:00 pm ET: Managing Partners: Pathways to Leadership in Law Firms
This panel of esteemed managing partners will share their experiences on attaining leadership positions within their law firms, the skillsets needed to lead, and how they are navigating the pandemic. Discussion topics include: how these attorneys reached their positions, lessons learned, challenges facing South Asian attorneys seeking leadership roles, and management strategies, skills, and techniques.

Panelists:

Binal Patel, President/Partner, Banner Witcoff
Andy Corea, Managing Partner, Murtha Cullina LLP
Anand Sharma, Managing Partner, Finnegan, Henderson, Farabow, Garrett & Dunner LLP
Kalpana Srinivasan, Managing Partner, Susman Godfrey LLP

Moderator:

 

Nicky Jatana, Principal, Jackson Lewis P.C.
4:30pm - 6:00pm ET: Welcome Reception - sponsored by Google
Please join us for the Welcome Reception kicking off the 2021 SABA North America Virtual Conference, featuring a Keynote Address by Neal Katyal, Partner at Hogan Lovells and Former Acting Solicitor General of the United States, and Welcome Remarks from Halimah DeLaine Prado, General Counsel at Google and Vineet Shahani, Director, Legal at Google.
Tuesday, June 22nd
3:00pm - 4:00pm ET: Antitrust and Big Tech: Perspectives on Enforcement, Law, Economics, and Future Policy (CLE)
Enforcers and lawmakers around the world have been ramping up their scrutiny of Big Tech firms. The U.S. Congress has hauled chief executives from the major technology companies to testify. Lawmakers have proposed amending centuries-old antitrust statutes to better deal with big tech firms. Antitrust enforcers have brought lawsuits against Facebook and Google and opened investigations into Amazon. Plaintiffs have commenced private actions against Apple. SABA North America invites an esteemed panel of antitrust practitioners to discuss some of the enforcement actions against Big Tech firms, the underlying law and economics implicated in those cases, and future trends in public policy.

Panelists: 

Ankur Kapoor, Partner, Constantine Cannon
Dr. Tasneem Chipty, Ph.D, Managing Director, Global Co-Leader of Economics Consulting, AlixPartners
Sujal Shah, Partner, Morgan, Lewis & Bockius LLP
Subrata Bhattacharjee, National Co-Chair and Partner, Competition, Antitrust & Foreign Investment Group, Borden Ladner Gervais LLP

Moderator:

Nandu Machiraju, Attorney, Litigation Group, Federal Trade Commission
4:00pm - 5:00pm ET: Intersectional South Asian Identities and Solidarities (CLE)
Using our experiences as diverse members of the South Asian legal community with a range of gendered, ethnic, and sexual identities, this panel will reflect on the navigation of our intersecting and interactionally marginalized selves while also paying attention to the kinds of solidarities that have sustained and stifled us over the years.

Panelists:

Suman Chakraborty, Member, Mintz
Swethaa Ballakrishnen, Assistant Professor of Law, University of California, Irvine
Manjusha (Manju) P. Kulkarni, Executive Director, Asian Pacific Policy and Planning Council
Maya Satya Reddy, Founder and Co-Director, Queer Asian Social Club

Moderator:

 

Kunoor Chopra, Vice President, Legal Services and Co-Founder, Elevate Services
5:30pm - 7:00pm ET: SABA Leadership Institute Reception (INVITE ONLY) 
The SABA Leadership Institute (SLI) is an innovative leadership program designed to "mind the gap" in leadership development for mid-career attorneys and provide these attorneys with the tools they need to navigate the field and reach the top ranks of the legal profession. SLI will be hosting a reception at the SABA Conference, featuring a fireside chat between Priya Bathija, Vice President, Strategic Initiatives, American Hospital Association and Reshma Saujani, Activist, Author, and Founder of Girls Who Code.
5:30pm - 7:00pm ET: Intellectual Property Section Reception - sponsored by Maynard
Please join us for our annual IP Section Reception, featuring remarks from various speakers from our generous sponsor, Maynard Cooper & Gale, including

Sasha Rao, Chair of IP Practice, Ashe Puri, Partner, and Dr. Suparna Datta, Of Counsel.
5:30pm - 7:00pm ET: Employment Law Section Reception - sponsored by Littler
Please join Hinna Upal, Associate at Littler Mendelson P.C., as she hosts an intimate conversation with the Honorable Cathy Bissoon, U.S. District Court Judge for the Western District of Pennsylvania. 
5:30pm - 7:00pm ET: Military Law Section Reception
Please join us for the Military Law Section Reception, featuring a discussion on religious accommodation in the military.

Amandeep S. Sidhu

, Partner, Winston & Strawn LLP and

Sim J. Singh

, Senior Manager of Policy & Advocacy, Sikh Coalition will discuss the associated legal/policy challenges, and the overall legal landscape of religious accommodation in the military. Both Amandeep and Sim have been intrinsically involved in advocating for service members belonging to the Sikh faith as well as other religious minorities. REGISTER HERE!
5:30pm - 7:00pm ET: LGBTQ+ Section Reception
Please join the LGBTQ+ Section for a special wine tasting reception with guest Sommelier Steven Brown. We will taste and discuss three varietals of red wines – Pinot Noir, Cabernet Sauvignon and Zinfandel. Bring your favorite wine or nonalcoholic beverage to the event to enjoy and be ready with any questions you have to learn more about these fabulous wines. The reception is hosted by co-chairs Ann Jenrette-Thomas, Chief Diversity & Inclusion Officer, Stinson LLP and Kunoor Chopra, Vice President, Legal Services and Co-Founder, Elevate Services. REGISTER HERE!
Wednesday, June 23rd
2:00pm - 3:30pm ET: DEI Roundtable (CLE)
Diversity in the legal industry is abysmal, especially at the law firm leadership ranks. Many organizations, in-house and at law firms, have been addressing this problem for years, with very little progress. This roundtable will explore potential solutions for realizing progress, particularly as it relates to the relationship between in-house departments (clients) and their law firms. The goal is to foster discussion between in-house attendees and law firm attendees to explore these issues and consider paths forward.

Roundtable Hosts:

Akshay Verma, Director, Head of Legal Operations, Facebook
Rekha Chiruvolu, Director of Diversity & Inclusion, Nixon Peabody LLP
4:00pm - 5:00pm ET: Firm DEI (CLE)
The legal profession has historically been perceived as lagging behind other professions and industries in the area of Diversity, Equity and Inclusion (DEI). Join us for an informative discussion with law firm thought leaders on the myriad ways in which law firms are tackling DEI initiatives.

 

Panelists:

Narges Kakalia, Director of Diversity, Equity & Inclusion, Mintz
Yusuf Zakir, Chief Diversity, Equity & Inclusion Officer, Davis Wright Tremaine
Ann Jenrette-Thomas, Chief Diversity & Inclusion Officer, Stinson LLP

Moderator

: 

Asker A. Saeed, Principal, Saeed Consulting Group
4:00pm - 5:00pm ET: In-House DEI (CLE)
As Diversity, Equity and Inclusion (DEI) initiatives gain increased focus and prominence in the corporate world, this panel will discuss some of the innovative ways in which DEI initiatives can be addressed in the profit and not-for-profit worlds.

 

Panelists:

Naveen Mehta, Chief Legal Officer, MESH/diversity
Vikrum Aiyer, Deputy Director, ACLU
Neha Sampat, CEO, GenLead|BelongLab
Pami Vyas, Senior Counsel, Apple

Moderator:

Ramla Farzad, Director, Diversity and Inclusion, K&L Gates
8:00pm - 9:30pm ET: Foundation Benefit
Please join us for an evening to honor our 2021 grantees who are on the frontlines helping those within the South Asian community from across the United States and Canada. This celebration will include a fireside chat led by Kalpana Srinivasan of Susman Godfrey LLP with Foundation's 2021 Hero Award honoree and keynote speaker Nisha Ganatra. Adding to Foundation Benefit's night, Reshma Saujani and Maulik Pancholy will offer words of solidarity with SABA Foundation. We hope you can join us for a fun and engaging night of celebration!
Thursday, June 24th
3:00pm - 4:00pm ET: Litigating IP Cases: Navigating a New Normal (CLE)
Learn how diverse IP lawyers successfully have navigated IP in a COVID and Post-COVID world. The panelists will discuss deal making, court proceedings, and other experiences related to IP during the pandemic.

Panelists

:

Vaishali Udupa, Vice President, Assistant General Counsel, Litigation, Hewlett Packard Enterprise
Neel Chatterjee, Partner, Goodwin Procter LLP
Ramya Possett, Co-founder and CETO, BlueFoot
Raisa Ahmad, Associate, Fish & Richardson

Moderator

:

Malavika (Molly) Rao, Senior Associate, Kelley Drye & Warren LLP
4:00pm - 5:00pm ET: Criminal Justice & Policing (CLE) 
In the aftermath of the events of 2020, this panel will explore criminal justice and policing initiatives to combat racial injustice.

 

Panelists:

Devi Rao, Supreme Court and Appellate Counsel, MacArthur Justice Center
Premal Dharia, Executive Director, Institute to End Mass Incarceration, Harvard Law School
Thiru Vignarajah, Partner, DLA Piper
Amol Sinha, Executive Director, ACLU of New Jersey

Moderator

: 

Amrutha Jindal, Chief Defender Attorney, Restoring Justice
5:30pm - 7:00pm ET: Corporate Counsel Reception (INVITE ONLY) - sponsored by Jones Day
Please join us for our annual Corporate Counsel Section Reception, featuring a Fireside Chat between Dana Rano, General Counsel at Adobe and Mahesh Parlikad, Partner at Jones Day, and Welcome Remarks from Jayant (Jay) Tambe, Partner at Jones Day and 2021 SABA North America Cornerstone Awardee!
Friday, June 25th
3:00pm - 4:30pm ET: General Counsel Panel - sponsored by White & Case
What does it take to rise up and become the General Counsel or Chief Legal Officer of a leading corporation? Join us for a plenary discussion in which several prominent General Counsel/Chief Legal Officers will share their experiences and thoughts on climbing the corporate ranks and becoming some of North America's leading lawyers.

Panelists

: 

Priya Aiyar, Senior Vice President and General Counsel, American Airlines
Paul Grewal, Chief Legal Officer & Corporate Secretary, Coinbase
Hina Latif, Vice President, General Counsel & Corporate Secretary and Diversity Leader, Mercedes-Benz Financial Services Canada Corporation
Inderpreet Sawhney, Group General Counsel & Chief Compliance Officer, Infosys Limited

Moderator

: 

Bijal Vakil, Partner, Technology & IP Litigation, White & Case LLP
4:30pm - 6:00pm ET: SCOTUS Panel (CLE)
The Supreme Court panel will review the major cases from last Term, preview the most exciting cases scheduled for next Term, and discuss other developments at the Court, including the changing lineup of the Justices and its implications for the Court, the Court's pandemic-era adaptations, and more.

Panelists: 

Kannon K. Shanmugam, Partner, Paul, Weiss, Rifkind, Wharton & Garrison
Pratik A. Shah, Head of Supreme Court & Appellate Practice, Akin Gump
Anitha Reddy, Partner, Litigation, Wachtell, Lipton, Rosen & Katz
Kirti Datla, Director of Strategic Legal Advocacy, Earthjustice

Moderator

: 

Tejinder Singh, Partner, Goldstein & Russell, P.C.
6:30pm ET: Foundation VIP Fundraiser
Please join us for an exclusive virtual VIP fundraiser event to support the SABA Foundation's mission.  We plan to have our keynote speaker and attorney Suneel Gupta discuss his recent book Backable: The Surprising Truth Behind What Makes People Take a Chance on You.  The event will also be a fun evening of mixing and mingling to unwind after the Conference week.  Tickets are priced at $150 and will include a signed copy of Suneel's book for registrants.  Event capacity is limited so make sure to sign up soon!  Further event details and registration may be found here!
Saturday, June 26th
11:00am - 12:00pm ET: SABA Wellness - Yoga 
Priya Bhanu's (President of SABA D.C.) vinyasa flow class–an extension of herself–a melodic home where you can be your fullest and truest self, and discover what yoga means for you. Her class will introduce you to your own power to feel more alive with every pose and find a connection to the rhythm within.

 
11:00am - 12:00pm ET: SABA Wellness - Bollywood Dance
Led by Hena Vora (Litigation Associate, Proskauer Rose LLP), BollyX is a Bollywood-inspired dance-fitness program that combines dynamic choreography and intensive workouts with upbeat music - think Zumba with Bollywood music.

 
7:00pm - 8:00pm ET: Cocktail Hour
Join us for a mix and mingle before the Gala, featuring entertainment by Jersey Beatz and Asli Baat!

 
8:00pm - 9:30pm ET: GALA
Hosted by Reena Ninan, join us for our signature Gala featuring remarks from American Civil Rights Activist and Racial Justice Awardee DeRay Mckesson and Pioneer Awardee Senator Mobina S.B. Jaffer, with special messages from Maya L. Harris, Gurbir Grewal, Patricia Lee Refo and the one and only Hasan Minhaj! Plus entertainment by Penn Masala and so much more!
9:30pm - 10:30pm ET: After Party
Back by popular demand, DJ Rekha will be spinning at the after party. JOIN HERE!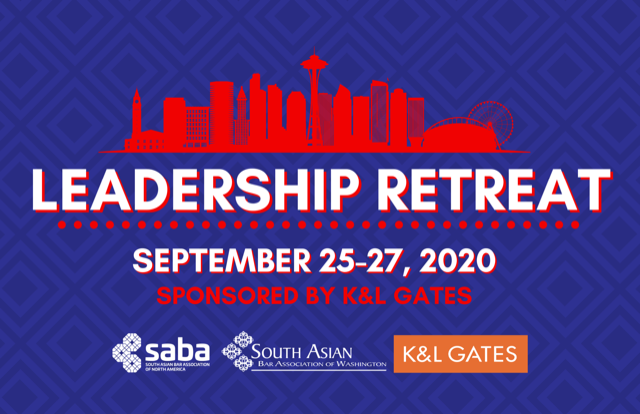 The Leadership Retreat takes place every fall and is open to all SABA leadership - Executive Committee, Board of Directors, Chapter Presidents, Committee/Section Chairs and National Advisory Council.  We take this weekend to plan not only for SABA North America's coming year, but its long-term goals and policies. 
Information on our 2021 Leadership Retreat coming soon!
SABA North America's Annual Lobby Day is back, in a special virtual format! Lobby Day is an opportunity for Congressional offices to hear directly from us, and it allows you to educate your elected officials and their staff about the issues that are most important to SABA members and our community.
In its virtual format, SABA members will participate in online advocacy meetings throughout the day on Thursday April 29, 2021. Prior to Lobby Day, registered participants will attend training sessions to gain a deeper understanding of the issues that affect the South Asian community and how to effectively communicate them to Congressional offices.
Register HERE!
For questions, email Nisha Ramachandran, SABA's Lobby Day Coordinator, at lobbyday@sabanorthamerica.com.

SABA North America's Naturalization Drive is one of our signature events, and is our way of encouraging permanent residents who otherwise qualify, to become United States Citizens.  SABA North America attorneys volunteer their time to assist the public in filling out the N-400 (citizenship application) form, and various SABA North America chapters organize local drives and educational campaigns on naturalization.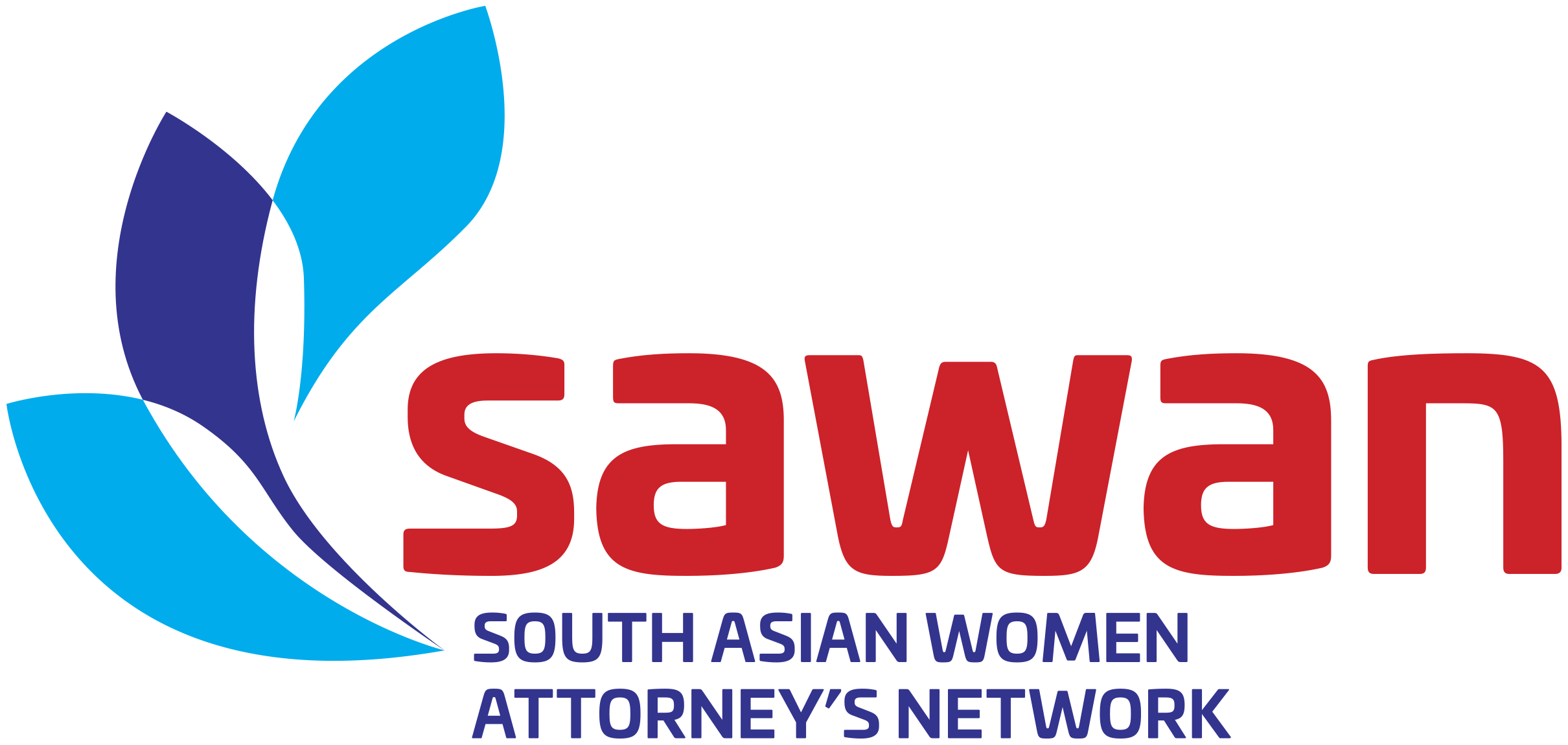 SABA's South Asian Women's Attorney Network (SAWAN) hosts several bootcamps every year on topics such as marketing your legal skills, how to "pitch" for business, and salary and promotion negotiations.
It's more important than ever to stay connected and stay informed. We launched our SABA North America Webinar Series in 2020 to offer our members educational and networking opportunities in a virtual setting.
SABA North America is committed to speaker diversity in all aspects of programming. SABA North America strives to provide gender balanced programming that includes speakers of varying age, gender, sexual orientation, gender identity, level of legal expertise, and geographic location.
We will provide updates on our 2021 Webinar Series soon; in the meantime, please feel free to submit your ideas to our Executive Director at executivedirector@sabanorthamerica.com!